haryanatet.in Notification 2020-21 Check Exam Pattern for Haryana TET PRT, TGT, PGT Level 1/ 2 /3 Exam Haryana TET Syllabus PDF Exam Date 2021Those Candidates are interested in the Following Recruitment of HTET 2020 Online Form, Haryana HTET Exam 2020
haryanatet.in Notification 2020-21
एचटेट 2020 रजिस्ट्रेशन: स्कूल शिक्षा बोर्ड हरियाणा ने हरियाणा अध्यापक पात्रता परीक्षा के लिए रजिस्ट्रेशन शुरू कर दिए हैं हरियाणा अध्यापक पात्रता परीक्षा 2020 में बैठने के लिए पात्र उम्मीदवारों को ऑनलाइन पंजीकरण प्रक्रिया पूरी करने के लिए आधिकारिक वेबसाइट पर जाने की सलाह दी गई है। एचटेट 2020 पंजीकरण पूरा करने के लिए उम्मीदवारों को पहले पंजीकरण लिंक पर क्लिक करना होगा और विवरण दर्ज करना होगा और आवेदन जमा करना होगा। एचटेट 2020 पंजीकरण पूरा करने की अंतिम तिथि 10 दिसंबर, 2020 है।
Online Registrations will starts from 16th Nov 2020 to 10th Dec 2020, Information Bulletin HTET-2020, Press Note HTET-2020 – Click Here
HTET Date has been extended for filling the HTET online Application : ऑनलाइन आवेदन पत्र व शुल्‍क जमा कराने हेतु दिनांक 16.11.2020 से 4.12.20 तक का समय दिया गया था जिसे अब दिनांक 10.12.2020 तक बढा दिया गया है
चरण 1: आधिकारिक वेबसाइट पर जाएं यानी haryanatet.in
चरण 2: आवेदन ऑनलाइन टेबल पर क्लिक करें
चरण 3: एचटीईटी 2020 की विस्तृत आधिकारिक अधिसूचना के माध्यम से जाएं
चरण 4: सभी महत्वपूर्ण बिंदुओं को नोट करने के बाद जारी रखें क्लिक करें
चरण 5: अपने मूल विवरण प्रदान करके वेबसाइट पर खुद को पंजीकृत करें
चरण 6: आवश्यक विवरण प्रदान करके आवेदन पत्र को पूरा करें
चरण 7: आवश्यक दस्तावेजों की स्कैन की गई प्रतियां आवश्यक रूप से अपलोड करें
चरण 8: लागू होने पर अपेक्षित आवेदन शुल्क का भुगतान करें
चरण 9: सभी विवरणों का सत्यापन करें और आवेदन पत्र ऑनलाइन जमा करें
एचटेट क्या है?
एचटेट या हरियाणा शिक्षक पात्रता परीक्षा माध्यमिक शिक्षा बोर्ड हरियाणा (बीएसईएच) द्वारा आयोजित एचटीईटी या हरियाणा शिक्षक पात्रता परीक्षा शिक्षकों के लिए पात्रता परीक्षा है। एचटीईटी हरियाणा राज्य सरकार द्वारा संचालित स्कूलों में प्राथमिक शिक्षक (पीटी), प्रशिक्षित स्नातक शिक्षक (टीजीटी) और स्नातकोत्तर शिक्षक (पीजीटी) जैसे शिक्षक भर्ती के विभिन्न स्तरों के लिए आयोजित किया जाता है । लिखित परीक्षा क्वालीफाई करने के बाद अभ्यर्थियों को टीईटी प्रमाण पत्र मिलेगा जो सात साल की अवधि के लिए वैध रहेगा, पहले यह पांच साल था । यह बदलाव राज्य सरकार के हालिया संशोधन के बाद किया गया है। एचटीईटी प्रमाण पत्र प्राप्त करने के बाद बीएसईएच द्वारा जारी रिक्तियों के लिए अभ्यर्थी आवेदन कर सकते हैं । इस लेख में, हमने एचटीईटी 2020 और परीक्षा से संबंधित अन्य घटनाओं का विस्तृत अवलोकन प्रदान करने की कोशिश की है।
Haryana TET Syllabus PDF Exam Date 2021
HTET Syllabus 2020-21 Applicants who have submitted their Haryana TET 2020 application form and are now searching for HTET Syllabus 2020 can download from here. We have given below details about Haryana TET syllabus. BSEH conducts htet exam. BSEH releases HTET Level 1 syllabus for PRT, HTET TGT syllabus for Level 2, HTET PGT Syllabus PDF for Level 3. So we have suggested to the candidates that they can start their exam preparation to secure their name in htet cut off list.
We have given the Haryana Tate syllabus 2020 here. From here you can download the exam syllabus of htate syllabus level 1, level 2 and level 3. As you know, the Board of Secondary Education, Haryana Bhiwani will organise Haryana Tate, so you should prepare an accordion of all the official syllabus. Stay with us for more information.
Haryana TET Selection Procedure Details
Level-1: Prt conducts examination in three tiers i.e. 1,2 & 3 for Primary Teachers Class I to V.HTET. Interested candidates who fulfill their desired qualifications will have to undergo written examination which will be conducted in three phases.
Level-2: TGT class VI to VIII.
Level-3: PGT for Post Graduate Teachers IX to XII.
HaryanaTET Level 1 Exam Pattern 2020 (PRT – Primary Teacher)
| | | |
| --- | --- | --- |
| Subject | Questions | Marks |
| Child Development and Pedagogy | 30 | 30 |
| Language I (Hindi) | 15 | 15 |
| Language II (English) | 15 | 15 |
| General Studies (Quants, Reasoning, Haryana GK & Awareness) | 30 | 30 |
| Mathematics | 30 | 30 |
| Environmental Studies | 30 | 30 |
| Total | 150 | 150 |
The total time duration will be 2 Hours 30 Minutes.
There will be no negative marking.
Online desk. HTET 2020: Updates for candidates preparing for Haryana TET exam. The process of online application for Haryana Teacher Eligibility Test 2020 has commenced from Monday, 16th November 2020. According to a communique issued by the Haryana School Education Board, Bhiwani Directorate, candidates for Haryana Tet 2020 will be able to apply online by December 4 on the official website of the board, bseh.org.in or tet examination portal, haryanatet.in. The Haryana Tet has been scheduled to be held by the board on 2nd and 3rd January and the admission card for the examination will be issued in December.
Haryana Teacher Eligibility Test 2021 is good news for the candidates waiting for the notification to be released. In fact, the Board of School Education, Haryana has released the notification for haryana teacher eligibility test 2021. Interested and eligible candidates can apply by visiting the official website of Board of School Education, Haryana bseh.org.in. Candidates can download the notification on the official website to get more details regarding the exam. The notification contains all the information regarding the exam.
Haryana Teacher Eligibility Test (Haryana TET 2021) will be conducted on 2nd and 3rd January 2021 as per the notification issued by the Board of School Education, Haryana. The application process has been initiated by the Board. The last date of application is 4 December 2020. Candidates will also be able to improve their registration form. The app correction window will be open between December 5 and December 8. Candidates will be able to change their name, father's name and mother's name. Candidates are advised to keep an eye on the official website to know the latest exam related updates. The latest update will be uploaded on the official website.
Haryanatet.in Notification 2020-21, Haryana TET Syllabus PDF Exam Date 2021 - Jobmet.in - All India Govt Jobs Notification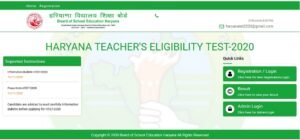 एचटेट 2020 रजिस्ट्रेशन: स्कूल शिक्षा बोर्ड हरियाणा ने हरियाणा अध्यापक पात्रता परीक्षा के लिए रजिस्ट्रेशन शुरू कर दिए हैं हरियाणा अध्यापक पात्रता परीक्षा 2020
Course Provider: Organization
Course Provider Name: Board of School Education Haryana
Course Provider URL: http://haryanatet.in/