India government bans 59 Chinese apps : चीनी ऐप टिकटॉक समेत 59 चीनी ऐप पर प्रतिबंध India bans 59 Chinese apps including Ticketock, Halo and Cam Scanners Indian Intelligence agency calls for ban on Chinese mobile Breaking: Government bans 59 Chinese apps including TikTok The State Government bans tik and other 59 Chinese apps s tensions along the border continue
India government bans 59 Chinese apps : चीनी ऐप टिकटॉक समेत 59 चीनी ऐप पर प्रतिबंध
इन ऐप्स पर बैन लगाया गया सरकार ने टिक टॉक सहित 59 चीनी एप पर बैन लगाया
TikTok
Shareit
Kwai
UC Browser
Baidu map
Shein
Clash of Kings
DU battery saver
Helo
Likee
YouCam makeup
Mi Community
CM Browers
Virus Cleaner
APUS Browser
ROMWE
Club Factory
Newsdog
Beutry Plus
WeChat
UC News
QQ Mail
Weibo
Xender
QQ Music
QQ Newsfeed
Bigo Live
SelfieCity
Mail Master
Parallel Space
Mi Video Call – Xiaomi
WeSync
ES File Explorer
Viva Video – QU Video Inc
Meitu
Vigo Video
New Video Status
DU Recorder
Vault- Hide
Cache Cleaner DU App studio
DU Cleaner
DU Browser
Hago Play With New Friends
Cam Scanner
Clean Master – Cheetah Mobile
Wonder Camera
Photo Wonder
QQ Player
We Meet
Sweet Selfie
Baidu Translate
Vmate
QQ International
QQ Security Center
QQ Launcher
U Video
V fly Status Video
Mobile Legends
DU Privacy
Railways-BSNL had also cancelled agreements with Chinese companies
The railways had cancelled an agreement of Rs. 471 crore from the Chinese company. With this, Bharat Sanchar Nigam Limited (BSNL) had decided to ban the use of Chinese products to upgrade 4g resources. It is also being said that the Government of India can increase custom duty on many products imported from China. More agreements with China can be cancelled in the coming days.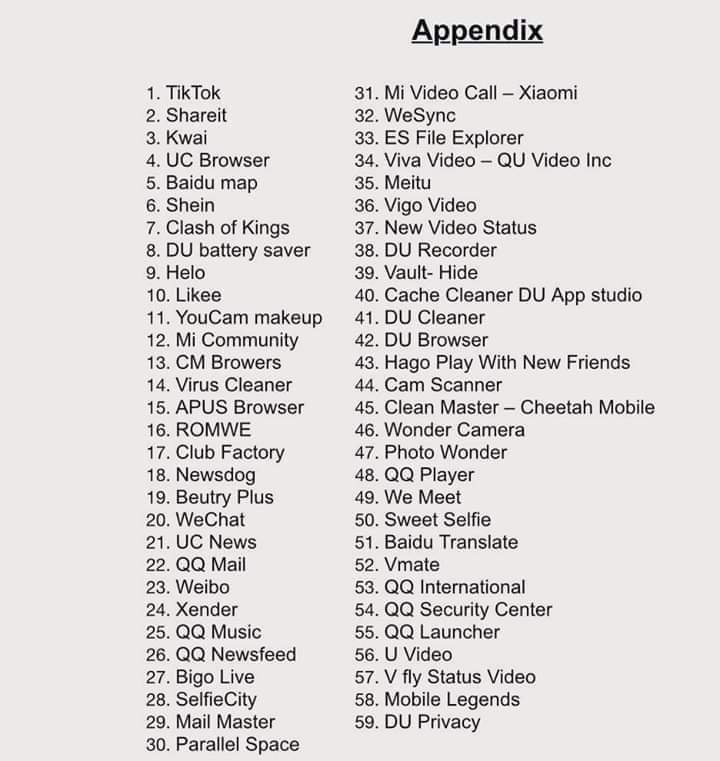 Maharashtra halts MoU, Bihar cancels tender
This week, the Maharashtra government had banned the 5000 20 crore memorandum of understandings (MOU) with the Chinese company. The Maharashtra government had appealed to the Centre to clarify its policies in the context of china's boycott campaign. The MOU was signed with China's Hengli Group, Great Wall Motors and PMI electro mobility solution. The Bihar government announced on Sunday that the tender for the bridge to be constructed in Patna was cancelled. This was stated by state Road Construction Minister Nand Kishore Yadav.