Rajasthan Computer Teacher Bharti 2023 – कंप्यूटर शिक्षक भर्ती सरकारी नौकरी Rajasthan Computer Teacher Vacancy 2023 Computer Teachers Recruitment New Bharti कम्प्यूटर शिक्षकों की भर्ती के नए कैडर Notification that the Vacancy of Computer Teacher notification disclose soon Recruitment Notification Online Form Date, Apply for Computer teacher jobs, Rajasthan Computer Teacher Recruitment, computer Teacher Vacancy 2023 Qualification, RPSC Computer Teacher Bharti
Rajasthan Computer Teacher Bharti 2023 – कंप्यूटर शिक्षक भर्ती
Good news for all candidate those doing MCA, B tech and Bca and want to make carrier in govt teacher 14,453 computer teachers to be recruited, selection process soon – Click Here
Rajasthan Computer Teacher Syllabus
Post's Name
Basic Computer Instructor, Senior Computer Instructor
Vacancy Name
RSMSSB Computer Teacher Vacancy 2023
Total Vacant Posts
9862 बेसिक कंप्यूटर अनुदेशक Posts
562 वरिष्ठ कंप्यूटर अनुदेशक
Job Location
Rajasthan All
Job Type
Permanent Computer Teacher Jobs
Department Name
Rajasthan Subordinate and Ministerial Services Selection Board, RSMSSB
राजस्थान कंप्यूटर शिक्षक भर्ती 2023 आवेदन करे
Education Qualification : You should have one of the following Qualification degrees to Apply for Rajasthan Computer Teacher Recruitment.
Basic Computer Instructor (बेसिक कंप्यूटर अनुदेशक योग्यता
Senior Computer Instructor (वरिष्ट कंप्यूटर अनुदेशक योग्यता
👉 स्नातक और 'ए' लेवल/पीजीडीसीए (न्यूनतम एक वर्ष)

Or
👉 अभियांत्रिकी (एम.ई.) में स्नातकोत्तर/कम्प्यूटर विज्ञान (सीएस) / सूचना प्रौद्योगिकी (आईटी) /इलैक्ट्रोनिक्स और संचार अभियांत्रिकी (ईसीई) / विद्युत अभियांत्रिकी (ईई) / विद्युत एवं इलैक्ट्रोनिक्स अभियांत्रिकी (ईईई)/इलैक्ट्रोनिक्स और दूरसंचार अभियांत्रिकी (ईटीई)/इलैक्ट्रोनिक्स और इंस्ट्रूमेंटेशन अभियांत्रिकी (ईआईई) में प्रौद्योगिकी में स्नातकोत्तर (एम.टेक.)
👉 अभियांत्रिकी में स्नातक (बी.ई.) / कम्प्यूटर विज्ञान (सीएस) / सूचना प्रौद्योगिकी (आईटी) / इलैक्ट्रोनिक्स और संचार अभियांत्रिकी (ईसीई)/विद्युत अभियांत्रिकी (ईई) / विद्युत एवं इलैक्ट्रोनिक्स अभियांत्रिकी (ईईई)/इलैक्ट्रोनिक इंस्ट्रूमेंटेशन और नियंत्रण (ईआईसी) / दूरसंचार और इंस्ट्रूमेंटेशन (टीआईई) में प्रौद्योगिकी में स्नातक (बी.टेक.)
👉 कम्प्यूटर विज्ञान (सीएस) / सूचना प्रौद्योगिकी (आईटी) में एम.एससी.
👉 कम्प्यूटर विज्ञान (सीएस) / सूचना प्रौद्योगिकी (आईटी) में बी.एससी.
👉 कम्प्यूटर एप्लीकेशन में स्नातकोत्तर (एम. सीए.) / 'बी' लेवल/'सी' लेवल
👉 भारत में विधि द्वारा स्थापित किसी विश्वविद्यालय से कम्प्यूटर एप्लीकेशन में स्नातक (बी.सीए.)
👉 सरकार द्वारा मान्यता प्राप्त कोई समतुल्य या उच्चतर अर्हता।
👉 सरकार द्वारा मान्यता प्राप्त कोई समतुल्य या उच्चतर अर्हता।
Notification Pdf Download – Click Here
राजस्थान कंप्यूटर टीचर भर्ती कार्मिक विभाग ने नोटिफिकेशन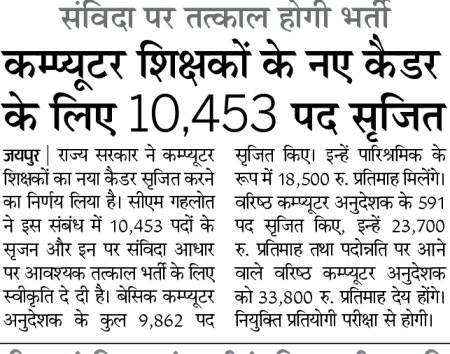 वित्त विभाग ने नियमित कंप्यूटर अनुदेशक भर्ती को दी मंजूरी
---
शिक्षा विभाग से शनिवार को अवकाश के बावजूद बेरोजगारों के लिए दो राहत भरी खबरें निकलकर आईं। वित्त विभाग ने कंप्यूटर अनुदेशक भर्ती को नियमित करने की स्वीकृति प्रदान कर दी है। यह भर्ती 10453 पदों पर प्रस्तावित है।
कंप्यूटर शिक्षकों की भर्ती एक माह में : वर्ष 2023 की बजट घोषणा के अनुसरण में कम्प्यूटर शिक्षक का पद सृजित किए जाने की कार्यवाही प्रक्रियाधीन है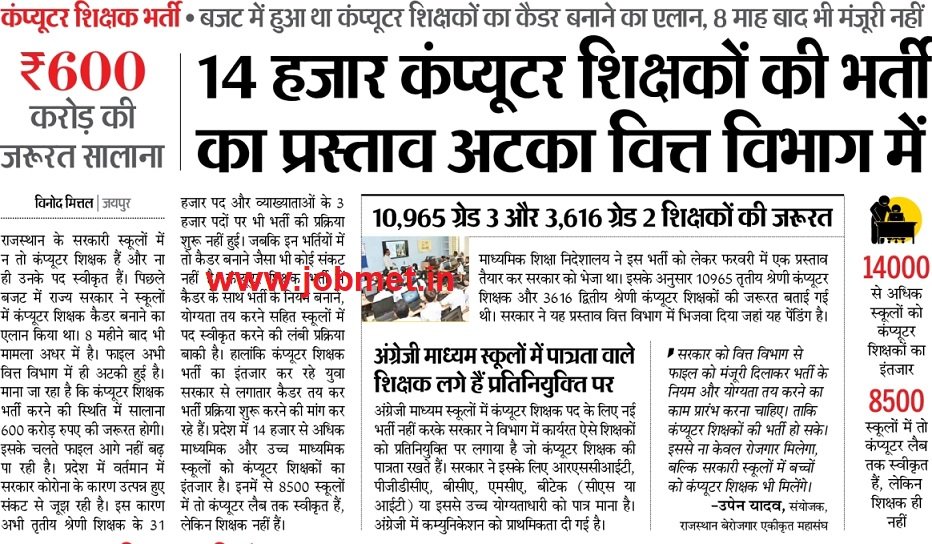 Rajasthan computer teacher vacancy 2023 Latest news कंप्यूटर शिक्षा भारती नवीनतम अपडेट। कंप्यूटर शिक्षा भारती , राजस्थान कंप्यूटर शिक्षक रिक्ति 2023 पाठ्यक्रम, राजस्थान कंप्यूटर job राजस्थान कंप्यूटर शिक्षक भर्ती 2023 : 14601 पदों की अधिसूचना जल्द, राजस्थान सरकार के सीएम अशोक गहलोत की घोषणा
Work begins within 5 days of budget announcement Jaipur. Five days after the Chief Minister's budget announcement, the Department of Education has started an exercise to form a cadre of computer teachers in government schools. Rajasthan Computer Teacher Bharti The department requires 14,601 posts of computer teachers. The Directorate of Secondary Education has made a proposal for the same and sent it to the government.
The proposal will be churned out in the government. Then the further process will start. As per the proposal, Rajasthan Computer Teacher Bharti there is a provision of a computer teacher in each secondary and higher secondary school. The teacher will work on computer teaching in classes IX and X, as well as all online work of the school and in charge of computer labs. Three cadres of computer teachers will be made first class, second and third class. The need for 3616 posts in 10985 and second class in the third class is indicated.
Computer teachers to be able to become degree holders in CS now
Computer Teacher jobs available in Rajasthan. Teacher, Science Teacher, Computer Teacher . The Department of Education has included three categories in the proposed cadre of computer teachers. For the first time, experience will also be included in the qualification of two out of three categories for the cadre of computer teachers created. As per the proposal, all posts of third class computer teacher i.e., 100% posts will be directly recruited. For this, graduate qualification will be maintained in Computer Science (CS) or information technology. Direct recruitment to 50% posts is proposed from 50% promotion to second class posts.
राजस्थान कम्प्यूटर टीचर रिक्रूटमेंट 2023
अभ्यर्थियों के पास एमएससी कम्प्यूटर साइंस, पीजीडीसीए, एमसीए, ओ लेवल और ए लेवल की डिग्री या डिप्लोमा है। ये भी कम्प्यूटर शिक्षक बनने का इंतजार कर रहे हैं। लेकिन पात्रता में शामिल न होने की वजह से ये आवेदन नहीं कर पाएंगे।
Latest Computer Teacher Jobs Update 2022
Most of us prefer to work in public sector jobs for various reasons. Are you looking for Desination Jobs 2023? If so, your search ends here. Every year, a large number of names are released by the Government of India in different fields. Candidates looking for computer teacher jobs in both public and private sectors can get it. Rojgarlive offers the latest Computer Teacher 2022 with detailed descriptions of job, experience requirement, education, age limit, applicable procedure, and more.
Latest Available Computer Teacher Jobs at Rojgar live
By reading this page, you can find out the list of Computer Teacher 2023 available in different locations all over India. We update all the necessary information of designation jobs on this page. It helps job seekers to learn more about the job openings available. About Computer Teacher Job 2021 You can find information here, Computer Teacher Jobs Notification 2023 Detailed Job Details Educational Qualification, Age Limit, Selection Process, Pay Scale and More Application Link Application Fee Application Process of Computer Teacher Jobs Admit Card Download Link Here we update the computer teacher 2023 inauguration available in state and central government, railways, UPSC, Indian Navy, Air Force, State PSC, Public Sector Unit (PSU), Banking, Defence and SSC. Check out the list of computer teacher jobs here to know the job openings available in the above areas.
15000 computer teacher vacancy in rajasthan
Rajasthan computer teacher vacancy 2023 syllabus
rpsc computer teacher syllabus
Rajasthan computer teacher vacancy 2023 syllabus
Which computer teacher jobs are included on Rojgar live?
Rojgar not only provides computer teacher jobs 2023, but also teacher, business analyst, hospital pharmacist, electrical engineer, assistant professor, lecturer, air hostess, computer operator, company secretary, sales engineer, field manager, computer teacher For other postings such as General Manager, Private Secretary, Supervisor, Network Engineer, Data Analyst, Radio Jockey, Legal Manager, Clerk, Radiologist, Marketing Manager, Medical Lab Technician, Security Officer, Network Security Administrator and Online Marketing Executive Also provides jobs.
कंप्यूटर अनुदेशक भर्ती
कंप्यूटर शिक्षकों की भर्ती
राजस्थान में कंप्यूटर शिक्षक भर्ती
कंप्यूटर शिक्षक भर्ती राजस्थान 2023
राजस्थान में कंप्यूटर शिक्षक भर्ती कितने पदों पर होगी?
कम्प्यूटर शिक्षकों की भर्ती 14 हजार कम्प्यूटर शिक्षकों की होगी, Computer Teacher 14600 Recruitment Notification Online Form
कंप्यूटर शिक्षक भर्ती के लिए योग्यता क्या हैं?
मान्यता प्राप्त संस्थान या यूनिवर्सिटी से कंप्यूटर डिग्री शैक्षणिक योग्यता क्या होनी चाहिए
3rd grade एवं 2nd कंप्यूटर टीचर भर्ती?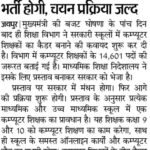 राजस्थानसरकार ने सरकारी स्कूलो में छात्रों को पढ़ाने के लिए कंप्यूटर टीचर भर्ती
How many vacancies are released for Computer Teacher?
14453 vacancies have been released for Computer Teachers. Rajasthan Computer Shikshak bharti
How to apply online for Rajasthan Computer Teacher?
To apply, first, you have visit the official link.
After that search the application option on the home page and click on us.
Then you have to fill in all the details asked on the next page exactly correctly.
After filing you have to submit the application fee.
Various companies issue computer teacher jobs 2023 every year and there are inauguration of computer teacher jobs from all locations across India. Rojgarlive updates all recent computer teacher jobs for both freshers and experienced candidates. Candidates who are looking for computer teacher jobs 2022 across India can get here. We have gathered all the latest Designation Jobs and updated here with all the information you need. Job seekers can see this page for up-to-date information. Continue reading to learn recent and upcoming computer teacher jobs from different sectors.
govt. computer teacher vacancy in Rajasthan 2023
rpsc computer teacher vacancy
rpsc computer teacher vacancy 2023
rpsc computer teacher recruitment 2023
Rajasthan Computer Teacher order pdf File – Click Here
Any degree in computer from a recognized institution or university. So you can apply online for Rajasthan Computer Teacher bharti 2023. Earlier, the students who had hired RSCIT. There was also a demand to include them in computer teacher recruitment. But after the protests, the RS CIT has refused to include the. You will be able to apply online for Rajasthan Computer Teacher bharti 2023, who has a degree in computer. BCA, MCA, BBA, MSC IT, B.Tech, Graduation in Computer Science. More information about educational qualification will be available to you at the time of official notification
vacancy of computer teacher rpsc computer teacher vacancy computer teacher syllabus government computer teacher vacancy computer teacher recruitment in rajasthan computer teacher vacancy rajasthan rajasthan computer teacher notification