Rajasthan govt Public Holidays 2021 pdf Rajasthan Public Holiday Calendar 2021 For Rajasthan Government राजस्थान सरकार सार्वजनिक अवकाश 2021 Rajasthan Government Holidays 2021 List pdf Download
Rajasthan govt Public Holidays 2021 pdf
Rajasthan Public Holiday Calendar 2021 For Bank School Collage Pvt Ltd Company Rajasthan Government Calendar 2021 with Holidays Latest list of Central Government Holidays 2021 PDF Download Free Download
राजस्थान सरकार सार्वजनिक अवकाश 2021
Rajasthan Public Holidays 2021: The Rajasthan government has released the calendar for the 2021 public holiday. Government employees will get a total of thirty public holidays next year, though eight of these thirty public holidays are on Saturdays and Sundays. This time Holika dahan, Independence Day, is Sunday on the holiday of Rakshabandhan.
राजस्थान गवर्नमेंट (Government) कैलेंडर सार्वजनिक अवकाश 2020 – Click Here
The General Administration Department has issued a holiday calendar on Monday. It has also declared 22 voluntary holidays in addition to thirty public holidays. The district collectors will have the right to declare two holidays. Next year there will be 9 holidays which are on Monday or Friday. There will be 9 weeks when the employees get three-three days ' leave continuously.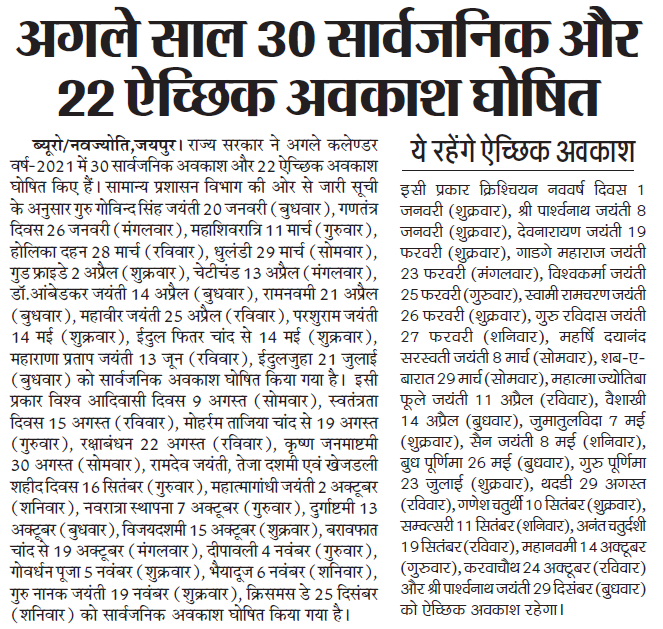 Extended a public holiday
Over this year, next year's public holiday has increased by one day. For this year, the state government had declared 29 public holidays when there will now be thirty holidays next year. The Day of World Aboriginal Day will also now be a public holiday. The state Government had accepted the demand this year itself. Apart from that, ten public holidays last year were on Saturdays and Sundays when eight holidays have come on these two days.
How to Check Raj Public Holidays list Year 2021?
Rajasthan official public holidays, Rajasthan bank holidays, Rajasthan government holidays Visit us for Full info @ https://jobmet.in/?p=1048
Rajasthan Government Offices Holiday List 2021 pdf download?
You can see Rajasthan, government holidays list ownload Latest Notification(s) Here rajasthan calendar 2021 pdf download