Rajasthan High Court Driver Jobs 2022 Driver/Chauffeur Vacancy 2022 for RHC, RSJA, RSLSA and District Courts HCRAJ Recruitment Apply Online at hcraj.nic.in Jobs, to invited applications for recruitment of Chauffeur/ Driver posts
Rajasthan High Court Driver Jobs 2022
इच्छुक और योग्य उम्मीदवार 31 जुलाई, 2020 से 31 अगस्त, 2020 तक आधिकारिक वेबसाइट के माध्यम से पदों पर आवेदन कर सकते हैं।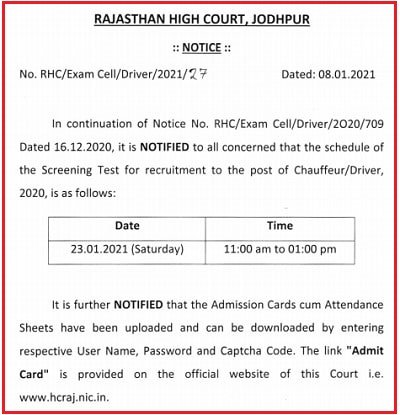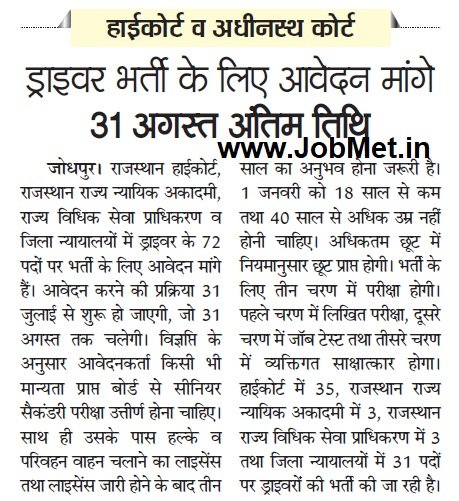 राजस्थान एचसी चालक भर्ती 2022: शैक्षणिक योग्यता
उम्मीदवारों को किसी भी मान्यता प्राप्त बोर्ड/संस्था से कक्षा 12 वीं (10 +2) उत्तीर्ण करना होगा ।
राजस्थान एचसी ड्राइवर भर्ती 2021: ड्राइविंग लाइसेंस और कार्य अनुभव
उम्मीदवारों के पास लाइट मोटर व्हीकल (एलएमवी) के लिए वैध ड्राइविंग लाइसेंस होना चाहिए और उसके पास न्यूनतम तीन साल का अनुभव एलएमवी ड्राइविंग होना चाहिए ।
उम्मीदवारों को वाहनों की मरम्मत और दो साल तक भारी वाहन चलाने का व्यावहारिक अनुभव का ज्ञान होना चाहिए ।
HCRAJ भर्ती 2022 पात्रता मानदंड:
उम्मीदवार ने 12वीं की परीक्षा पास या सीनियर सेकेंडरी परीक्षा उत्तीर्ण की होगी और एलएमवी/ट्रांसपोर्ट व्हीकल ड्राइविंग लाइसेंस के साथ ।
आयु सीमा: 18 से 40 वर्ष
आवेदन शुल्क: नेट बैंकिंग या ई चालान के माध्यम से परीक्षा शुल्क का भुगतान करें
सामान्य/अन्य पिछड़ा वर्ग/अन्य राज्य: 400/-
एससी/एसटी ऑफ राज: 250/-
ऑनलाइन आवेदन जमा करने की शुरुआती तिथि: 31 जुलाई, 2020
ऑनलाइन आवेदन जमा करने की अंतिम तिथि: 31 अगस्त, 2020
शुल्क के भुगतान की अंतिम तिथि: 01 सितंबर, 2020
कैसे करें आवेदन : इच्छुक उम्मीदवार 31 जुलाई, 2020 से 31 अगस्त, 2020 तक hcraj.nic.in पर आवेदन कर सकते हैं।
HCRAJ भर्ती 2020 नौकरी स्थान: राजस्थान
HCRAJ भर्ती २०२० चुनाव प्रक्रिया: चयन लिखित परीक्षा, नौकरी परीक्षा और साक्षात्कार के आधार पर किया जाएगा ।
HCRAJ भर्ती 2020 अधिसूचना: hcraj.nic.in/recruitment
राजस्थान हाईकोर्ट भर्ती 2022 के लिए आवेदन कैसे करें?
इच्छुक उम्मीदवार 2022 को या उससे पहले hcraj.nic.in ऑनलाइन मोड के माध्यम से उपरोक्त पदों के लिए आवेदन कर सकते हैं। उम्मीदवारों को भविष्य के संदर्भ के लिए आवेदन का प्रिंटआउट लेना अनिवार्य है ।
राजस्थान हाईकोर्ट भर्ती 2022 के लिए आयु सीमा क्या है?
राजस्थान हाईकोर्ट भर्ती 2022 के लिए जरूरी आयु सीमा 18 से 40 वर्ष के बीच है। सरकारी मानकों के अनुसार आरक्षित वर्ग के अभ्यर्थियों के लिए आयु में छूट होगी
राजस्थान उच्च न्यायालय भर्ती 2022 के लिए पात्रता मानदंड क्या है?
उम्मीदवार को मान्यता प्राप्त बोर्ड से कम से कम 12वीं उत्तीर्ण होना चाहिए और ड्राइविंग लाइसेंस होना चाहिए।
There is good news for the youth who want government jobs. The 12th pass in the Rajasthan High Court has emerged for the driving licensee youth. These candidates have a golden opportunity to recruit driver posts. The Rajasthan High Court has withdrawn the vaikensi in the posts of various offices death driver. Read the official notification for all eligibility information. The link to the application will be active on 31st July.
HCRAJ Driver Jobs 2022 Notification
scale of pay
The candidates selected in these posts will get salary as per level-5. The pay scale will range from Rs 20,800 to Rs 65,900 per month.
Details of Posts 2020
Total Number of Posts – 72
Driver for Rajasthan High Court – 35 Posts
Driver for Rajasthan Judicial Academy – 3 Posts
Driver for Rajasthan State Legal Services Authority – 3 Posts
Driver for District Courts – 31 Posts
Eligibility
Rajasthan High Court Driver Jobs 2022 Candidates desirous of applying must have 12th standard pass. Candidate should have LMV/LMV. There should also be a transport vehicle driving licence. 3 years of experience is also necessary.
Age-limit
The minimum age should be 18 years and the maximum age is 40 years. The age will be calculated by 1st January 2021.
How to apply
The Rajasthan High Court will have to apply online for driver recruitment. The process of online application will commence from 31st July 2020. The last date for application is 31st August 2020. The application fee can be paid through online means upto 1st September 2020.
Application Fee
The application fee for SC and St category candidates of Rajasthan is Rs. 250. The application fee for all others is Rs. 400. Selection process-eligible candidates will be selected on the basis of written test and interview.
Rajasthan High Court, Jodhpur has advertised no. Examination Cell/ Exam Cell Driver/Driver Under 2020/388, Rajasthan High Court has released the latest syllabus and examination pattern for driver combined competitive examination 2021. Candidates who are going to apply for Rajasthan High Court driver recruitment 2022 for appointment to 72 driver posts and who are preparing for this HCRAJ driver recruitment 2021 exam can check the Rajasthan High Court driver syllabus 2021 from the madyam of this article and also download the latest syllabus PDF. The information pertaining to Rajasthan High Court Driver Course 2022 such as number of questions, subject, examination pattern, selection procedure etc. are as under.