Check Rajasthan Vacancy 2023 latest Notification Rajasthan govt jobs, Sarkari naukri in Rajasthan Check Govt Job notification for details like eligibility Upcoming Sarkari Naukri in Rajasthan 2023 Get Sarkari Naukri latest & upcoming jobs news from Government Jobs Vacancy
Upcoming Sarkari Naukri in Rajasthan 2023
51 thousand jobs, Highest rank teachers and constables to be provided this year Good news: Rajasthan Public Service Commission and Rajasthan Staff Selection Board ready to start new recruit downs
Sarkari Naukri in Rajasthan 2023
RPSC started the process of these recruitment : Deputy Commandant Recruitment (13 posts) From 30th January to 18th February Evaluation Officer (6) 27th January to 17th February Assistant Acharya (Medical Department-176) 22 January to 10 February Senior Exhibitor (Medical Department 93) 22 January to 10 February Agriculture Officer (76) 24 January to 12 February Agriculture Research Officer (24 posts) from 24th January to 12th February.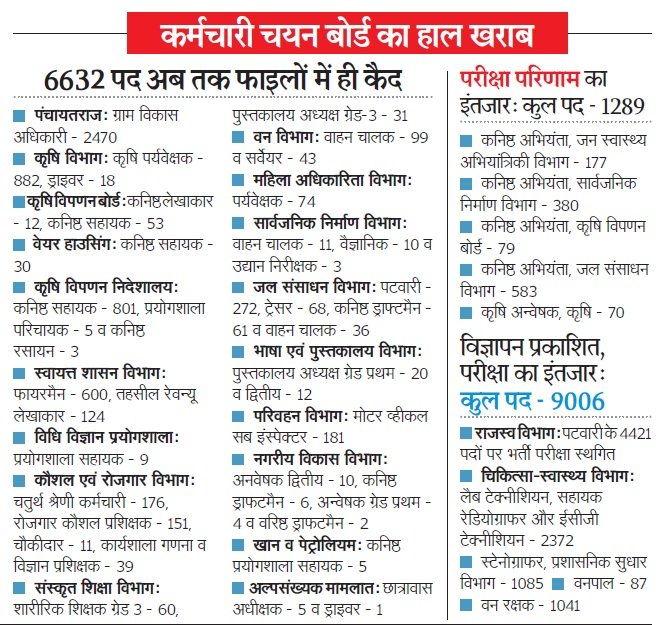 The process is going on in so many posts
The third class teacher recruitment will be REET on 2nd August. Applications for school lecturer recruitment will now be taken up. The recruitment test is proposed in September. Applications for Sanskrit Education School lecturer will be till 27th January.
The application process for Patwari recruitment has commenced and the application process for sub-inspector platoon commander will commence soon. The application process for constable recruitment has commenced from 19th December.
Old recruits whose jobs will be employed this year
The librarian recruitment 2023 examination was held on 29th December, but was cancelled due to paper leaks. Now there will be a re-recruitment test this year. The result of the main test of RAS 2023 is stuck. Because of this, the interview process is also not taking off. Based on the revised communique of pharmacist recruitment-2023, the application process has been completed. The recruitment test will be held this year. Name of the Department
The year 2023 has brought the good news to the youth of the state. According to data so far, 50,924 posts are ready for recruitment this year. Of these, the highest 34 thousand posts are from the Education Department alone. The process of several recruitment has also started. Some of them were those who started in the BJP regime in 2023, but have not yet been completed. The RPSC is also pending for recruitment to 1231 posts. If there is no lacuna in the test, the process of these recruitment will commence soon. The Rajasthan Staff Selection Board has also initiated the process of Patwari recruitment. The last few pending in the selection board are also under exercise to be completed this year.
College Education Department 930
Department of Ayurveda 33
Language, Library Department 12
Sanskrit Education Department 100
Law Department 156
School Lecturer Recruitment 3,000
Patwari Recruitment 4,421
Constable Recruitment 5,000
Pharmacist 2022 1,736
Librarian Grade 3 -2018 700
Stenographer 2022 1,085
RAS 2022 1,017
Sub Inspector Platoon Commander 68
Sanskrit Education Lecturer 2018 264
JLO Recruitment 2022 156
Veterinary Officer 2019 900
Process of application in these recruitment now Number of Posts
We will soon start the process of recruitment of college teachers. It is ready to send the RPSC to the candidate. – Maelstrom Singh Bhati, Minister of Higher Education
This year, the Education Department will have new recruit downs in 34 thousand posts. Preparations have been initiated. The reet will be on August 2. The recruitment test for the school lecturer is proposed in September. The application process will also start soon. Govind Singh Dotasra, Minister of State for Education
RPSC Protection Officer Recruitment
Rajasthan Public Service Commission to recruit posts of conservation officer. Examination for recruitment will be conducted. Candidates will have to apply online to join the examination. For online application, candidates will have to visit the official website of the RPPS. We are going to tell you how to apply online for examination.
Will have to apply online for examination. The process of applying offline has been completely discontinued. Candidates can apply online for the examination by visiting the official website of Rajasthan Public Service Commission. They have to get the form. So let us tell you what you have to do for the online application.