Rajasthan class 1st to 8th syllabus 2023 राजस्‍थान कक्षा 1 से 8 तक पाठ्यक्रम विभाजन कक्षा 1st, 2nd, 3rd, 4th, 5th, 6th, 7th, 8th RBSE New Syllabus Official Website released the revised syllabus for classes from class 1 to 8 for the education session 2023-24
राजस्‍थान एक से 8वीं तक का सिलेबस किया गया कम Science Mathe's SST English Hindi Science Math's Sst English Hindi (संक्षिप्त सिलेबस) syllabus 2023
Rajasthan class 1st to 8th syllabus 2023, राजस्‍थान कक्षा 1 से 8 तक संशोधित पाठ्यक्रम
1st Class (New) syllabus Rajasthan Board सिलेबस कक्षा प्रथम – Click Here
2nd Class (New) syllabus Rajasthan Board सिलेबस कक्षा दूसरी – Click Here
3rd Class (New) syllabus Rajasthan Board सिलेबस कक्षा तीसरी – Click Here
4th Class (New) syllabus Rajasthan Board सिलेबस कक्षा चौथी – Click Here
5th Class (New) syllabus Rajasthan Board सिलेबस कक्षा पाँचवीं – Click Here
6th Class (New) syllabus Rajasthan Board सिलेबस कक्षा छठी – Click Here
7th Class (New) syllabus Rajasthan Board सिलेबस कक्षा सातवीं – Click Here
8th Class (New) syllabus Rajasthan Board सिलेबस कक्षा आठवीं – Click Here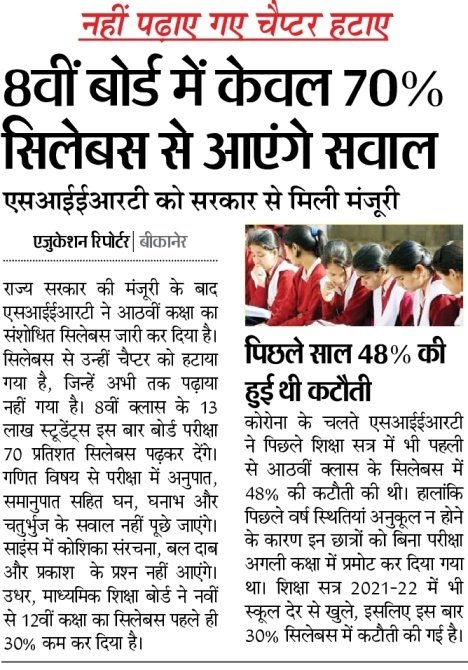 Rajasthan class 1st to 8th syllabus 2023, राजस्‍थान कक्षा 1 से 8 तक संशोधित पाठ्यक्रम
राजस्थान कक्षा 1 to 8 का सिलेबस : कक्षा 1 से लेकर 8 तक के सभी विद्यार्थियों के लिए नया सिलेबस जारी कर दिया गया है
👉 सभी 1st to 8th कक्षाओं का सिलेबस , संपूर्ण सिलेबस यहां से डाउनलोड करें Total 91 Page- Click Here (English, Hindi, Mathematics, Science, Social science, Science, Sanskrit syllabus Exam 2021)
राजस्थान बोर्ड की कक्षा 8 में आपके पास न्यूनतम 5 विषय हैं। 8th syllabus भारत में राज्य बोर्डों के साथ विभिन्न विषय, लेकिन भारत में सभी राज्य बोर्डों में गणित और विज्ञान अनिवार्य विषय हैं । इसका कारण यह है कि गणित और विज्ञान हमारे जीवन में एक महत्वपूर्ण भूमिका निभाते हैं, Rajasthan class 1st to 8th syllabus 2023 हम 21वीं सदी में इसके महत्व को नजरअंदाज नहीं कर सकते । प्रौद्योगिकी और डेटा हैंडलिंग के नवाचार से कक्षा 1 से कक्षा 10 के पाठ्यक्रम में गणित और विज्ञान को मजबूरी के रूप में शामिल करने की आवश्यकता उत्पन्न हुई है ।
हमने मैथ्स और साइंस सब्जेक्ट के लिए आरबीएसई क्लास 8 सिलेबस उपलब्ध कराया है । 8वीं बोर्ड राजस्थान के विस्तृत सिलेबस को जानने के लिए उपर दिए गए लिंक पर क्लिक करें।
The Department of Education has intensified preparations to Bring the education of about 40 lakh students of the affected state on track due to corona. In a meeting held in Jaipur on Thursday, the proposals for curriculum and examination were discussed with the top officials. Now a draft will be prepared and sent to Education Minister Govind Singh Dotara.
While it has been decided to reduce the syllabus from class one to eight to about 48 per cent, a report has also been sought from the Board of Secondary education on the ninth to twelfth examination. Director of secondary education Saurabh Swamy said that the detailed report in this regard will be released on the department's website soon. Rajasthan class 1st to 8th revised syllabus 2023 The draft has been prepared to change the marks prescribed for passing the examination. RBSE New Syllabus 2023-24 Class 4th, 5th, 6th & 8th Download PDF Official Syllabus Released by RBSE on Official Website Download Now .
SCERT to decide new syllabus
The Rajasthan State Council of Educational Research and Training (SCERT), Udaipur will decide how to test students from class one to eight and how to pursue the examination syllabus. The syllabus up to 8th has been 52%, which will also be reported on scent's website as to which text has been removed and which has been added.